25.11.2022
Sweating. A vital process, but when people feel they sweat too much, it becomes a burden. Most of all for those who suffer from so-called primary hyperhidrosis – a condition that is characterised by excessively sweating for no apparent reason. The heavy sweat production often significantly affects the emotional and mental health of those affected.
It is assumed that around 5 percent[1] of the German population suffer from this chronic disease. However, the number of unreported cases is likely to be much higher, as many of those affected suffer silently and do not talk about their condition – neither to confidants nor to a doctor. It often takes several years before people affected reach out for help. Dr. Wolff, a pharmaceutical company based in Bielefeld, Germany, wants to lower exactly this inhibition threshold – with a new online service: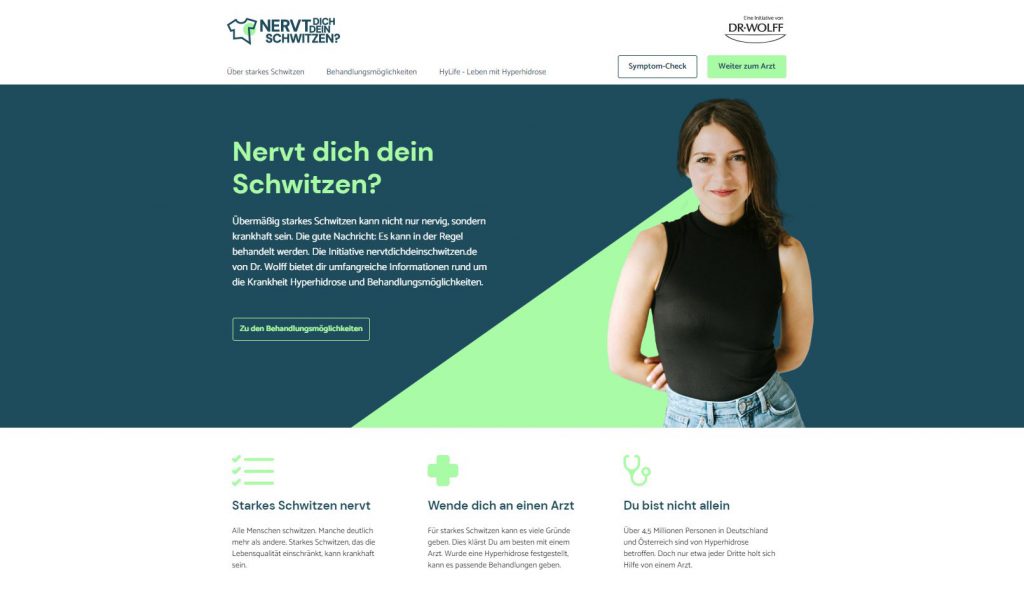 Disease awareness website aims to bring illness out of niche
To raise awareness of hyperhidrosis among the general public Dr. Wolff launched a digital information platform succinctly named nervtdichdeinschwitzen.de (= does your sweating annoy you). The main concern of the site is to provide detailed and interesting information about this comparatively unknown illness.
The initiative pursues the self-declared goal of making a broad public aware of the clinical picture and to simplify the communication between doctor and patient. The site encourages users to consult a trusted physician and discuss their symptoms. Site users can do an initial symptom check and get a first estimate on whether their sweating could be pathological. Furthermore, they may search online for a physician via our online service page. NervtDichDeinSchwitzen.de offers various offline and online options to search for a physician and to lower the inhibition threshold to get in contact.
Plea: "Go see a doctor you trust and get help".
"We want knowledge about the illness to increase, for hyperhidrosis to become a topic of conversation, and for those affected to lose their fear and seek help," explains Eduard R. Dörrenberg, managing partner of the pharmaceutical manufacturer Dr. Wolff. Because the good news is: pathological sweating is usually treatable, the psychological strain can be reduced and the quality of life improved. However, people affected need to see a physician they trust in. Many people do not know that sweating may in some cases be pathological – after all, to a certain extent it is a normal and vital bodily function. PD Dr. Christoph Schick, founder of the German Hyperhidrosis Center in Munich says: "If you are affected by hyperhidrosis, I strongly recommend: Do something about it! The sooner you do something, the longer you well benefit from the treatment effect."
About hyperhidrosis
Approximately 5 % of people worldwide suffer from permanent excessive sweating without an identifiable cause, so-called "primary hyperhidrosis". This chronic disease is a great burden for patients and severely limits their quality of life. Primary hyperhidrosis ranges in severity from mild wetness to heavy dripping and can lead to a significant impact on quality of life. This may significantly affect work, social relationships, physical and leisure activities, as well as emotional and mental health. Patients with primary axillary hyperhidrosis suffer from excessive sweat production in the armpits beyond the amount required to regulate normal body temperature.
About Dr. Wolff
Dr. Wolff – since 1905, the name has stood for research that solves people's skin-, hair-, and dental problems with innovative active ingredients. We focus our effort on scientifically proven benefits of the products. Since the company was founded, Dr. Wolff has maintained close cooperation with renowned scientists. From the first branded product, Hämatopan, to today's internationally available products, in-house research provides the basis for innovative active ingredients and product developments. The company is managed by the fourth generation of the family and is growing with 780 employees worldwide. Dr. Wolff operates in 62 countries. For more information, please go to: Dr. Wolff Group
Press Contact Dr. Wolff-Group
Marcel Klöpping Phone: +49 (0) 521 8808-243
E-mail: pr@drwolffgroup.com
---
[1] Doolittle J, et al., Arch Dermatol Res 2016; 308(10): 743-749.